12/28/17 | The Ut EP and Confidential 12″ can now be purchased on Bandcamp. Follow the page — more releases are planned in 2018.

9/13/17 | Ut, the legendary No Wave band, announce a performance in London at The Lexington on Tuesday, November 7, to celebrate the first release of their remastered back catalogue. Buy tickets now.
The Ut EP and Confidential 12″ vinyl and CD will be released on November 10 by Out Records with Forte Distribution.

DIAL News
Dial, the experimental noise rock band of Jacqui Ham (UT), Rob Smith and Dom Weeks release a new album Noise Opera on their own Cede record label on March 15th 2016 through Bandcamp.
Dial have moved their catalogue — infraction (1996), Distance Runner (2000), 168k (2007) and Western Front (2012) — to Bandcamp and plan a series of releases in 2016 starting with Noise Opera on March 15, followed on April 15th by Sea Blues, the first solo album by guitarist and drum programmer Rob Smith.
Dial will be releasing more material later in the year.



Follow Us on SoundCloud
We've just started posting music on SoundCloud. Our first playlist includes "Sham Shack," "Tell It," "Ampheta Speak" and a newly remastered live version of "Confidential" from our 2010 Issue Project Room show. Follow us — much more to come!
New #UtLive Track
Independent art space Extrapool's new sound archive Outside Sounds has launched — and it includes a newly remastered live version of "Confidential" from our 2010 Issue Project Room show.  We think it sounds great — hope you do too.
Just for Fun: "Sham Shack" Lyrics
Over on @utmusicnow, @sethtisue asked us about the official lyrics to "Sham Shack." Without further ado, here they are. (Note that the last line has been tweaked from the recorded version!)
Help Us Book 2015 Shows
Ut are looking to play in the USA and Europe in 2015. If you have booking leads, or know of a space that could be suitable, please get in touch! Contact us at Utmusicnow@gmail.com or reach out on Twitter: @utmusicnow.
Ut Cancels End of an Era 2 Appearance, Plans Gigs in 2014
Via @atpfestival: due to unforeseen circumstances, Ut have reluctantly decided to pull out of End of an Era 2. The band's statement in full:
"We are sorry to announce that due to unforeseen circumstances, Ut are very reluctantly obliged to cancel their performance at ATP on the 30th of November. We are extremely disappointed as we were so excited about playing in the End of an Era Festival at Camber Sands. There are some gigs planned for 2014, so we hope that you will be able to come and see us then. Many thanks for your understanding and support."
Read more at ATP's site.

UT Confirmed for All Tomorrow's Parties: End of an Era 2, Curated by LOOP
UT has been hand-picked by festival co-curators LOOP to play the LAST ever Camber Sands ATP Festival, Nov 29-Dec 1.
Also confirmed:
Loop / Slint / Shellac / Mogwai / The Pop Group / Superchunk / Fennesz / Michael Rother Performing the music of Neu! & Harmonia / 23 Skidoo  / Balam Acab /  & more TBC!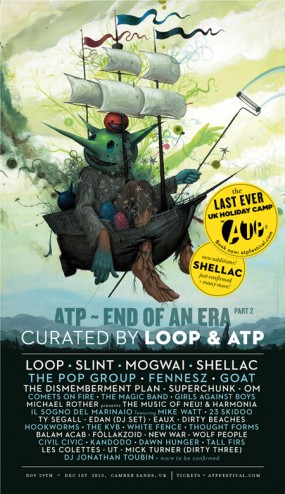 Quietus Mix 43: UT Instinct
In advance of their first proper UK tour in 20 years, Ut contribute a mix to UK webzine The Quietus.
On Site: Theoretical Music
Hank Shteamer hails Ut's Issue Project Room show as " enthralling," "triumphant" — "three distinct musical personalities meshing in multiple equally effective configurations." Reprinted from The Wire, December 2010.
US Tour Archive
An ever-expanding collection of photos, video and other ephemera from Ut's recent East Coast tour.
Ut Reunited at Issue Project Room
Some fantastic photos by Lori Bally over at Brooklyn Vegan.
Ut Is Back
A lovely shout-out over at Kathleen Hanna's blog.
Feminist Music Geek: Taylor Swift vs. Ut
Alyx Vesey on Ut and the current pop landscape: "High school me wouldn't listen to Taylor Swift, but she didn't know about no wave either."
Ut: A No Wave Trio Returns
Jordan Mamone: "It borders on criminal that more postpunk connoisseurs aren't hip to the jarring No Wave trio Ut." From the Nov. 1 issue of Time Out NY.
Providence Phoenix Editor's Pick, 11-10
Jim Macnie: "Dissonance and calamity intermingled in the music of Ut when the New York trio made its splash in the early '80s. It was a thorny and magnetic blend."
Boston Phoenix Editor's Pick, 11-10
"No Wavers Ut have more cred than a first pressing of Pink Flag."

2010 Issue Project Room Press Release
Ut returns for their first US concert since 1989. "The raw power and sheer drive of Ut is quite straightforward and unmistakable. This is a true threatening guitar band." — New York Rocker
Organized by musician David Grubbs and art historian Branden Joseph,Theoretical Music: No Wave, New Music, and the New York Art Scene, 1978-1983 is a three-day event examining the intersections as well as the failed encounters of art, music, and cinema in downtown Manhattan from 1978-1983.