This is the final part of the interview with Ut.
It's funny —even though the four of us never actually sat in the same room to discuss the band's history (variety of time zones & continents made that logistically impossible), I feel as though we've all been having this lovely, extended conversation for the last few months. This whole experience has just been a delight from start to finish. I hope it's been as enjoyable to read!
For reference, my original No Wave article is here.
When you're younger you (typically) digest music in a fairly non-discerning fashion (ie, passively). What song or band marked a turning point for you, when you realized there was a real power & expressiveness in music?
Sally: I don't remember ever digesting music in a non-discerning fashion. But I can mention songs or bands that really hit the mark, like the first time I heard John Coltrane or Miles Davis (I used to listen to Bitches' Brew over and over again when I was 16 because I found it endlessly mysterious and fascinating). Or the first time I heard Marvin Gaye and Al Green sing; or Billie Holliday do "I Cover the Waterfront" and "Strange Fruit." Or listening to Aaron Copland and being entranced by what classical music could be. I was mesmerized when I first listened to Velvet Underground's "Venus in Furs" and just wanted to make music that sounded like that. I was also really taken with the skewed rhythms of Captain Beefheart's Trout Mask Replica. And I was totally captivated by Dylan's singing and songwriting. His phrasing and lyrics were the most moving and evocative I had ever heard.
What were you listening to when you were 15? 20? 25? Have you rediscovered anything from that time and how did it sound to you today?
Sally: 15ish: At this age I was listening to either jazz (such as John Coltrane, Miles Davis, Ornette Coleman, Charlie Parker, Herbie Hancock), or folk- or blues-based music (Joni Mitchell, Laura Nyro, Dylan, Donovan, Neil Young, Van Morrison, Leonard Cohen, Loudon Wainright III). The only rock music I tended to listen to at this stage was also either heavily folk- or blues-based (Dylan c. Blonde on Blonde and "Highway 61", Creedence Clearwater Revival, Rolling Stones' Exile on Main Street, Jimi Hendrix's Electric Ladyland, Derek and the Dominoes, The Doors).
20ish: The Sex Pistols, Patti Smith, Television, Richard Hell and the Voidoids, Bowie, Iggy Pop, the Velvet Underground, The Incredible String Band, James Brown, Captain Beefheart, Mink DeVille, The Clash, Wire, Springsteen, PIL, Pere Ubu.
25ish: The Birthday Party, Einstuerzende Neubauten, Sonic Youth (Daydream Nation has always been a favorite), The Fall, Prince.
In the past few years, I've rediscovered jazz and appreciate people like Coltrane and Miles Davis with more understanding of what they were actually doing, which has been an enlightening experience. It's also a strange feeling of coming full circle to what I was listening to at 15 when I first became aware of music as a deep and complex journey, but now I'm experiencing the journey on a somewhat higher and more conscious level.
Jacqui: I was obsessed with music. I had a little record player next to my bed when I was 4. My favorite songs were "St. James Infirmary Blues" and "Sleeping Beauty." In my house there was Duke Ellington, Beethoven, "Mack the Knife", Big Bad John, and records by the Weavers. I got into the Beatles and the Stones as they happened in elementary school. The first single I bought was "Jumping Jack Flash" when I was 11. A girl moved from Pittsburgh got me into Motown and Sly Stone. My older sister had a great record collection so when I was 13 I was hearing everything from Beefheart to the Velvet Underground.
In high school Sally and I were turned onto free jazz, Bartok and Ives by a jazz pianist friend. Another friend figured out how to rent Cocteau films for school and got us into Rimbaud. We subsequently discovered Patti Smith before she did Horses because she was doing some Rimbaud thing in NYC.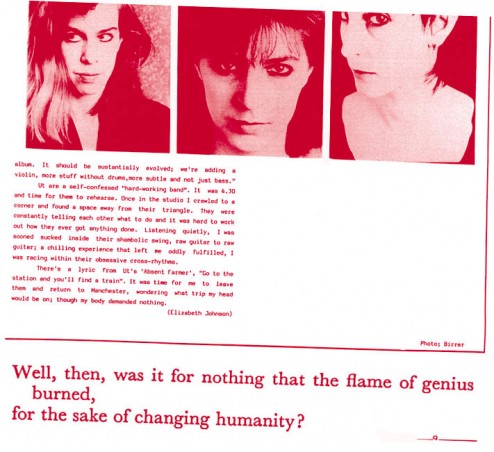 Another friend had an incredible avant-garde record collection and we'd hear stuff there. I was really into the blues especially Robert Johnson, Howling Wolf and Skip James. Some pivotal records were: Dylan's Blonde on Blonde and Highway 61, the Velvets' Banana album and White Light White Heat, Hendrix Are You Experienced?, Coltrane's Live at Birdland, Don Cherry's Complete Communion and Mingus' Devil Woman.
In NY around the beginning of Ut I got this Tony Conrad record, Outside the Dream Syndicate by chance and loved it immediately. I was really into Television's first single 'Little Johnny Jewel" —and that sound inspired Ut. I'd take records out from the library where I discovered this Daglar wedding song which was in fact the saddest song I'd ever heard. I taped [the song] and carried it around in early days of London exile but I misplaced it long ago.
I've always been inspired by music. I remember knowing I liked the guitar sound on the Stones' "Last Time" when I was a kid. That was the first compulsion for a sound — the first awareness. Then when I was 14 I was in a van with some older people from California and there was this music playing —I don't know what it was but it toally arrested me. It was like Beefheart's "Kandy Korn" —circular guitar change which has remained this seminal illusive music for me, something I am always trying to capture.
I am interested by most music even when I don't like it. It is a continuing education. Sometimes I am more open, sometimes I am intolerant of certain sounds and phrasings. I get into different things all the time. I go through phases —in '85 I got really into 20th century classical music and Duke Ellington —really thinking about the structures and sounds. Sometimes I listen in this acute way. Sometimes I can only listen to jazz, sometimes I fanatically listen to Sly Stone or Al Green.
My favorite music is probably Arabic and Turkish because I am always in the mood for this tonality. There have been many crucial songs that have influenced me but the one that captures so many things that I aspire to is "Early in the Morning" recorded at a penitentiary in the 40's by Lomax.
Nina: I was never a real musico, but of course I was a huge fan of Hendrix, the Stones and Beatles, all of Motown's artists, The Who, Janis, Jefferson Airplane, the Animals Michael Jackson et al when I was a teenager and 20-something Soft Machine bien sure became very important. I was always a fan of "world" music; I wasn't exposed to much jazz or blues but a bit. Having started out life in South Africa I was exposed to rhythms and sounds from there which I'm sure influenced my style of playing later. When Punk started I did not take the Clash or Pistols very seriously, I was much more into a visual creative reality in fact and it was only when I got to NYC that the music bug bit me, and it bit me hard.
What do you do when you're not making music? And, if you didn't have music as an outlet, what do you think you'd do instead?
Jacqui: I write as well and I'd like to make films.
Sally: I work mainly as a book editor and sometimes music and travel writer, so I spend a lot of time writing and editing for a living. I also go to the cinema, gigs and art exhibitions. If I wasn't continuing to do music in some way, I think I'd be writing a novel.
Pop-culture item(s) that mean(s) a lot to you (that's not music)?
Sally: I grew up as a bookworm, so books have always been iconic for me. As a child I was obsessed with J.M. Barrie's Peter Pan, and as a teenager I was transformed by reading Dostoevsky's The Idiot and Notes from Underground, along with Arthur Rimbaud's poetry, Jean Genet's prose and Antonin Artaud's theories about theater. In my 20s, it was Nietszche's philosophy that gripped me.
With movies, I wouldn't know where to begin, there are so many that mean a lot to me, but Fassbinder, Fellini, Nicholas Ray, Alain Resnais, Jean-Luc Godard and Andrei Tarkovsky are directors whose films stood out for their pioneering vision and who took me places I hadn't been before. The most exciting film I've seen recently is Scorsese's documentary of Bob Dylan, No Direction Home.
I'm also a great fan of art and my way of looking at painting was strongly influenced by the American abstract expressionists. But some of my favorite art objects come from ancient cultures. I saw an exhibition of Aztec art recently that had large sculptures of insects that I thought were among the most amazing and beautiful things I've ever seen.
Jacqui: I was fascinated by everything and am always reading and investigating things. I thought a lot about revolution, how things grew and evolved. I've always written and many books and films have been essential. Emerson, Nietzsche, Kierkegaard, Kafka, Dostoevsky, Faulkner, Rimbaud, Artaud and Genet were seminal. Godard and films like Mean Streets, The Mother and the Whore, and Pierrot Le Fou.
What musical artist will you just never 'get'? For me, it's Elvis Costello, for you it's _______…
Sally: Frank Zappa. I've had people try to foist Frank Zappa on me, not understanding how I couldn't appreciate him and thinking that it must be because I haven't heard enough or the right thing, etc. But the more I've heard, the more I can't stand it. His approach to experimentation seems so contrived and soulless to me, I can't bear it. In fact, if someone wanted to invent an effective instrument of torture to extract some well-kept information from me, they couldn't do much better than to force me to listen to Frank Zappa endlessly. I think it would send me right 'round the bend.
Reposted from Warped Reality (2006)